Without Teachers, the Classroom Is Just a Room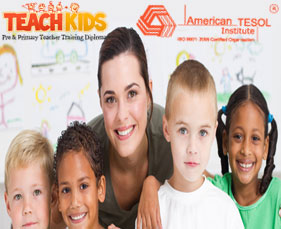 American TESOL Institute has been a pioneer in English Language Teacher Training and is responsible for producing skilled TEFL/TESOL teachers, who are placed successfully in different corners of the world. In recent years, ATI has felt the need to explore different teacher training courses and as a result, has introduced its' Pre & Primary Teachers Training Course with Specialization in Teaching English.
India has witnessed the mushrooming of pre-primary and primary schools in recent years. But the number of well-trained and skilled teachers in India is still proportionately low. ATI's Pre & Primary Teachers Training Course is designed scientifically to acquaint aspirants with the all the know-how, skills and technique required to teach kids between the age of 2 to 12 years. This course is apt for teachers interested in teaching either at the pre-primary or primary level, which in other words is from Kindergarten up till Class Five.
ATI believes that the foundation of a child's growth and personality development is formed in the formative years and hence, the educated imparted to them at this age is of utmost significance. ATI's Pre & Primary Teachers Training Course (PPTTC) is formulated with the inclusion of the latest trends and developments in the field of education. It has a very modern approach and trains teachers on modern educational approaches and themes. It is a comprehensive course, which helps both professional teachers as well as aspirants to plan, execute and evaluate curriculums best suitable for these young learners.
ATI believes that education is responsible for all-round development of a child. Hence, ATI's PPTTC includes training on child psychology and enabling teachers to meet a child's social, cognitive, neurological and emotional needs on a daily basis. A teacher in a pre-primary or primary level is responsible not only for academics but also growing awareness about the world and environment in a child and inculcating in him or her social interaction skills, behavioural habits and moral values. ATI knows and appreciate the hassle teachers face in teaching such a wide variety of things to toddlers and have come up with its Pre & Primary Teachers Training Course, which train aspirants on using innovative methods of teaching such as organizing group activities like games, dance, song, drama and many more, which are interesting and understandable to the young kids and help them to learn.
The Pre & Primary Teachers Training Course by ATI covers all aspects of teaching as required by Pre-primary and Primary teachers. Teacher training is gaining significance in recent years due to the number of job openings for teachers all across the country. Apart from the PPTTC, ATI also offers other teacher training courses like the TEFL or TESOL course Trainer Training Course and other Professional Development Courses.