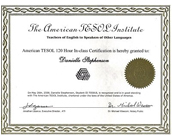 The Distance Pre & Primary Teachers Training Course is divided into many phases and modules. After the completion of each module, the trainee is given a set of assignments to complete in a given timeframe. Each assignment is completed and sent to the tutors for evaluation. After evaluation of each module, the tutor sends the feedback to the trainee within seven to ten days and the trainee is allowed to start with the next module. After the successful completion of all the modules, the trainee is provided with two months to research on a particular topic related to teaching young learners and write a thesis based on it. The thesis is sent for a final evaluation and based on the feedback, the candidate is awarded with a Diploma Certification in Pre & Primary Teachers Training Program.

The term 'Distance' is not mentioned on the certification thereby, providing the same value to the certification as its onsite counterparts. The Diploma in Distance Pre & Primary Teacher Training program like other Diploma Courses offered by ATI, is associated with the International Montessori Council, International Montessori Society, USETTA, iLEARN, USDLA, Central Florida TESOL, Georgia Department of Education, 'Interpark Communications', Talkbean etc, which are leading international educational bodies and their affiliations have helped raise the standard and quality of these courses. Therefore, the Diploma granted by ATI is extremely significant and carries a lot of value.

Job prospects for PPTTC Diploma certified teachers are very high in Montessori, Kindergartens, pre-schools, primary schools and crèche.